Resolution of Miraial
The officers and employees of the Miraial Group will observe the laws, regulations, and company rules, nurture strong corporate ethics, and conduct corporate activities that contribute to society in the spirit outlined in the management philosophy and the Miraial Corporate Behavior Charter.
Mirai Group Compliance System
A Compliance Committee that answers directly to the president has been established to create an organization for guiding and supporting the sound implementation of compliance by officers and employees of the Mirai Group. In addition, the Compliance Hotline Desk (Compliance Committee line, outside attorney line) has been established as a notification channel for reporting acts that present a compliance problem when they are discovered.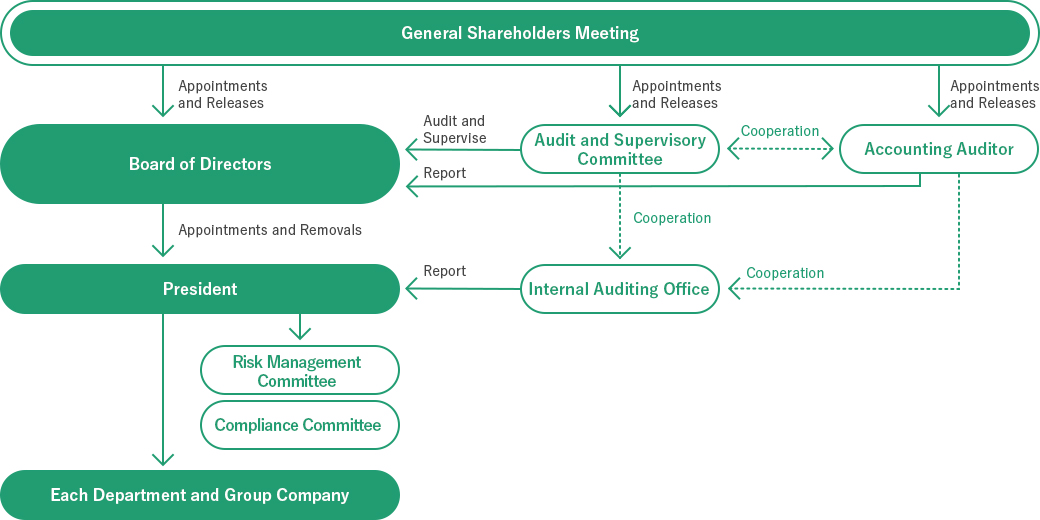 Compliance manual
A manual containing an explanation of compliance and the compliance structure is distributed to officers and employees and research on the observance of laws and regulations is conducted. The following 24 items are listed as compliance items envisioning normal business activities.
・Environmental protection
・Security and disaster prevention
・Severing relationships with anti-social forces
・Restrictions regarding political donations and gifts
・Observance of laws regarding exports and imports
・Providing safe and high-quality products
・Observing the Anti-Monopoly Act and related laws
・Respecting the intellectual property rights of others
・Prohibiting unfair competition
・Entertaining and gift-giving
・Disclosure of business information
・Prevention of insider trading
・Respect for human rights
・Protection of privacy
・Healthy and safe workplace
・Observance of labor related laws
・Observance of employment regulations
・Appropriate accounting procedures
・Appropriate preservation of accounting records
・Control of company confidential information
・Appropriate handling of company assets
・Preventing conflicts of interest
・Preventing diversion of company assets
・Appropriate use of computer systems
Actions to Remove Antisocial Forces
The Company has issued the following basic concept for eliminating antisocial forces. The in-house structure building status is also given below.
Basic concept for eliminating antisocial forces
The Company has absolutely no relations, including business transactions, with antisocial forces that threaten the order and safety of society and is working to eliminate such forces with firm resolve.
Any undue requests from antisocial forces will be absolutely refused and behind-the-scenes deals or the provisions of funds will absolutely not be done.
The Company will cooperate with police authorities, etc., in a variety of ways to protect the safety of employees countering antisocial forces and the entire organization will stand firm against such forces.
Preparation state of in-house structure for eliminating antisocial forces
・Establishment of a countermeasures task force
General Administration Department will serve as the countermeasures task force to support through consultation the related department each time there is an undue request.
・Cooperate with external expert organizations
The Company cooperates with external expert organizations, such as the police department with jurisdiction and the corporate attorney.
・Collection and management of information regarding antisocial forces
General Administration Department centrally manages the information regarding antisocial forces and checks whether any of it applies to antisocial forces.
・Creation of a countermeasures manual
An Antisocial Forces Countermeasures Manual is created and distributed to all related departments including the department responsible for the countermeasures.
・Conducting of study activities
Information will not only be stated in the Corporate Behavior Charter and the Compliance Manual but will also be thoroughly presented to employees through in-house study.
Back